Remote Work
(Samharris.org)
A refreshingly hopeful conversation that doesn't downplay the seriousness of the current situation we're all in. I think there's a tendency to focus on what we've all suddenly lost by being fully remote, but this discussion highlights how it could also be a really exciting opportunity. Listening to someone who's passionate about running distributed companies talk about his experience is very inspiring (Matt is managing a distributed workforce of ~1200 people, working from 75 different countries). He's also a very thoughtful and efficient speaker so it's an excellent listen, if you have the time. Also, he reveals that he likes to have a candle on his desk (which would definitely be frowned upon in a traditional office setting) — love this guy!
The core of the discussion is centered around what Matt describes as the "5 levels of autonomous companies", but he also talks more generally about good communication practices, some potential solutions for businesses that are struggling right now—like restaurants—as well as useful advice for individuals navigating the mental anguish of this global pandemic.
Some of my favourite bits:
14:50 Sidebar on how Matt doesn't believe in muting during meetings, but thinks everyone should invest in better audio such as this good yet inexpensive headset. He also mentions Krisp.ai an app that uses machine learning to remove background noise — cool!
19:18 When you shift to asynchronous your decisions can take a little longer, but they can be better and why Matt thinks most meetings are bad.
31:50 Top 3 tool recommendations: Zoom, Slack and something to replace email — for Automatic, this is an internal blog. Good explanation of why that works better than email for them.
46:06 The importance of good communication. API: Assume Positive Intent, and Postal's Law: "Be liberal in what you accept, and conservative in what you send."
58:00 How businesses like restaurants might become more resilient. Cloud kitchens! Prediction of how we might start to treat delivery people as an essential service in the near future.
01:10 How much of the spread of COVID-19 was due to the social stigma of working from home? Some bosses will literally have blood on their hands.
01:18 It's going to be really bad. But, "adversity creates clarity" — when things get tough there's a much higher bar that everyone has for information, especially when we're talking about a life or death situation (which this obviously is).
01:27 The concept of strategic reserves and how more organizations should have them (not just the oil industry). China has a strategic pork reserve!
01:35 How meditation can help us all during this time. Book recommendation for engineers that uses technical metaphors for meditation instruction: Search Inside Yourself
Email's nice cause it's asynchronous, but unfortunately it's private. Part of Levels 3 and 4 is you start to move towards being a lot more transparency internally, so information isn't locked up in private things like inboxes ... I get under 5 emails per month (from my colleagues) everything happens on these internal blogs ... communication is totally flat and accessible.
Remote Work
(Theinformation.com)
If there's anything the current Covid-19 pandemic has made us aware of it's how often we are in contact with things other people have touched, like doors, sinks, money or food. No doubt we will see a surge of touchless products from startups and enterprise alike addressing our new reality in the months ahead:
Manual revolving doors, ubiquitous in cities like New York, are rare in Hong Kong, Shanghai or Beijing, where automatic doors are the norm. Most public restrooms in Asia's big cities have automated faucets and soap dispensers, and are equipped with self-flushing toilets. One advantage these cities have is that most of their malls and office towers were built within the past two decades, meaning they could incorporate modern technology from the outset.

Another big gap between the U.S. and the rest of the world is the way U.S. consumers pay for things. "We are significantly behind most of the world," said Jordan McKee, research director at 451 Research, part of S&P Global Market Intelligence. "If you look at countries like Canada, the U.K., Australia, contactless [technology] is a way of life there."

In Australia, 90% of retail transactions of less than $25 are completed through contactless transactions, such as tap-to-pay credit cards or mobile devices. In contrast, just 2% of in-store transactions in the U.S. were contactless in the last year, said McKee.
News
(Sloanreview.mit.edu)
Great interview with legendary startup entrepreneur and 'OG of Lean' Steve Blank on why strategies that work well for startups get lost in translation to the enterprise.
Big companies typically do a bunch of things. It's become a fad — they set up incubators, implement lean processes, and create minimum viable products. That's great! But then the leaders ask, "How come we haven't moved the needle or seen better revenues or profits?"

Most corporate accelerators and incubators are trying to duplicate a process they don't quite understand. They create a series of innovation activities, but they don't create an end-to-end process to deliver products and services. To make innovation an integral part of the organization, it needs to be owned by the appropriate units. There needs to be a vision of how the incubator either delivers through existing units or turns into an independent entity. My guess is that in 90% of the cases, companies haven't developed a clear route from the incubator's output to the delivery channel.
(Mediapost.com)
Good perspective here from Doug Ryan and MediaPost on the pitfalls of blindly pursuing an "omnichannel" marketing/platform strategy.
Omnichannel was quite a buzzword years ago, and it felt like the furor around it had died down a bit since. But it's rearing its head again – presumably because of the plethora of viable new platforms that have proven adoption and fit as user acquisition channels. There's nothing wrong with thinking along multiple channels and developing strategies that present a consistent brand story and useful user experience across multiple touchpoints, but the risk highlighted here is taking a spray-and-pray approach. A major pitfall is in thinking of omnichannel as an all-or-nothing game, and not considering user needs and platform strengths when setting your plans.
Suggested is a more strategic, user-centred process – developing an understanding of the most valuable channels, messages and touchpoints for users, and then pursuing those thoughtfully in your strategy
...savvy marketers should think about their communications channels the same way they think about their new products. Nobody would seriously propose an "omniproduct" strategy.

In that light, it's clear that omnichannel starts at the wrong end of a strategic marketing process. It's like collecting as many tools as possible and then figuring out what to build from them.

Strategy is deciding what you want to build, and then assembling the tools most critical to its construction.

Several have tried coining the term "optichannel" to replace "omnichannel." To the extent buzzwords are useful, optichannel at least implies the need for making strategic choices. It requires finding the balance between what a customer wants, what the brand delivers, and what your budget can afford.
Transformation
(Hbr.org)
Corporate innovation is often executed through bringing in 'digital gurus' to transform the business, often followed by a drift towards innovation silos as the organization rejects an ill-fitting progressive agenda.  This HBR piece explores the alternative – taking a non-digital-native leader who has holistic understanding of the business, and allowing them to lead a team of digital experts to ensure a realistic integration of digital to all aspects of a company's practices.
Although a digital guru may understand how to create a digital business from scratch without the constraints faced by an established business, when you put them in a real company setting, they will often fail simply because they don't understand the business. Typically their downfall starts early, as soon as they start broadcasting their vision for the complete transformation of the company, without listening carefully to how the business operates and to the real needs of leaders and customers. This is typically followed by a period when the guru castigates the rest of the company for slowness and inertia, culminating in spinning digital off into a separate unit where the team has the freedom to create what it envisions, which in the end is too disconnected from the core organization to succeed. And that was what we saw at nearly all of the companies we've studied that chose a digital guru.

By contrast, insiders with little digital experience who are placed at the head of digital initiatives succeeded about 80% of the time (of the 50 cases we studied). Why? Because ultimately digital transformation is as much about organization change as it is about technology. Insiders who are willing to learn have an advantage because they understand how the business works, they have the relationships to get things done, and, most important, they understand what they don't know.
Advertising
(Webkit.org)
Do you want YouTube to know everything you've browsed or purchased on Amazon? Do you want every Google search you make to be accessed by Facebook to customize your news feed?
If you've resigned yourself to accepting that everyone already knows everything you do online, last week's major announcement from the Apple's Webkit team may give you some hope. Webkit, the browser engine used by Apple's Safari browser and iOS apps, have announced strict new rules around cross-domain user tracking (which is how Amazon ads for those headphones you looked at seem to follow you everywhere).

While not "anti-commerce", Apple is making no concessions to the business impact these changes will have to the ability of digital advertisers (notably Google, Facebook, Amazon etc.) to micro-target ads and content recommendations to users based on their browsing habits.
Tracking We Will Prevent

WebKit will do its best to prevent all covert tracking, and all cross-site tracking (even when it's not covert). These goals apply to all types of tracking listed above, as well as tracking techniques currently unknown to us. If a particular tracking technique cannot be completely prevented without undue user harm, WebKit will limit the capability of using the technique. For example, limiting the time window for tracking or reducing the available bits of entropy — unique data points that may be used to identify a user or a user's behavior. If even limiting the capability of a technique is not possible without undue user harm, WebKit will ask for the user's informed consent to potential tracking.

Policy Circumvention

We treat circumvention of shipping anti-tracking measures with the same seriousness as exploitation of security vulnerabilities. If a party attempts to circumvent our tracking prevention methods, we may add additional restrictions without prior notice. These restrictions may apply universally; to algorithmically classified targets; or to specific parties engaging in circumvention.

No Exceptions

We do not grant exceptions to our tracking prevention technologies to specific parties. Some parties might have valid uses for techniques that are also used for tracking. But WebKit often has no technical means to distinguish valid uses from tracking, and doesn't know what the parties involved will do with the collected data, either now or in the future.

Unintended Impact

There are practices on the web that we do not intend to disrupt, but which may be inadvertently affected because they rely on techniques that can also be used for tracking. We consider this to be unintended impact. When faced with a tradeoff, we will typically prioritize user benefits over preserving current website practices. We believe that that is the role of a web browser, also known as the user agent.
News
(Medium.com)
Very interesting look at the business model for Bird's electric scooters, and how they're taking a 'business in a box' (BiaB?) approach to expansion. Will internet franchises be the new Software as a Service business model?
The "business in a box" model allows for significant de-risking of product-market fit (which is very hard to achieve!) by providing a proven product to sell. Nearly 55% of small businesses in the U.S. fail within the first two years, and 40% of these failures are due to the fact that there's no market for the product or service. A "business in a box" removes the "idea risk" from a venture, leaving the entrepreneur with geographic and operating risk.

If executed well, these models can be value accretive for both the parent company and the individual operators. The parent company benefits from faster and more capital-efficient geographic growth (no need for market launch or operations teams in each city), lower real estate and inventory risk, and better local execution. The entrepreneur benefits from the ability to be his or her own boss (the American dream!) without having to develop an innovative product and establish a standalone company.
(Sloanreview.mit.edu)
It's no secret that change is slow and painful work in most large companies. It's almost accepted as 'the way it is' and is as if it's used as an excuse lead by the 'command and control' hierarchy in their disconnected ivory towers. This approach is now proving to be a critical problem to the 'too big to fail' businesses as new market entrants (the tech giants) and startup/scale up businesses alike (Google, Amazon, Apple, Uber, Shopify, Airbnb, Wealthsimple, Revolut, Monzo, Ritual, League) now, more than ever, have the ability and platform to poach frustrated presumed loyal customers away from big business.
Traditional enterprises have been too slow to modernize infrastructure, architecture and organizational structure to enable and truly support new product development and innovation through advanced software development and the required feedback loops – Agile (with a capital A). A recent 2018 enterprise study uncovered that approximately 74% of critical, revenue generating applications and core business logic still reside on legacy technology stacks, wallowing in technical debt, caged in rigid monolithic architectures and desperately need migrating, re-platforming, rebuilding, refactoring or rearchitecting.
Not only are Enterprises struggling to keep pace technically but they're bleeding talent as high calibre digital staff aren't able to make the impact they were promised because they're not empowered culturally or technically; Simply put – product isn't getting out the door fast enough and enterprises are losing customers and staff hand over fist. 
Consider a credit card company that wants to update its mobile app so customers can easily check and redeem their reward points. The company creates an agile team of developers, designers, and an initiative owner who understands customer behavior and can make decisions about focus and priorities. This team updates the app in a few weeks, but it takes months for another part of the organization to provide the data feeds from the rewards system, and longer still for another part to integrate these changes into the app, delaying the rollout of the new functionality.

Customers like the new feature, but now they also want to see recent points activity when they log in. The members of the original agile team have moved on, and since everyone is busy, it takes a few months to pull together a new team. This team makes the changes but overlooks a defect that causes the update to fail vulnerability testing. Once fixed, the operations team refuses to release the code to customers without more thorough testing. Disagreements between the development and operations teams about the extent of that testing further delay the new update.
(Itnext.io)
It is rare that new ways of engineering digital products impact on how we structure our teams and manage a product's feature-set, especially within the realm of operations. Serverless has increasingly become a popular approach to development that allows a greater focus on providing business value – the core features that are necessary to build, and further abstracts the concept of managing or even worrying about the underlying hardware powering a feature.
As the rate of change increases, predicting the future state of software or the future needs of your customers becomes much more difficult. This means building foundational code that will always work for some future state is often a fruitless exercise. We've seen how little code reuse really happens in most companies, and how commitment to aging platforms stymies progress.

The traditional pattern is that an old system is maintained and developed as far as possible, until maintenance consumes almost all development effort, and the company eventually starts afresh with a new system heralded not to repeat the failures of the old. When the new system is eventually strangled by the three factors, the technological forest fire comes and we start over again.

Our obsession with the symptoms of systems complexity explains why so many paradigms come and go without making any significant dent in product management. Serverless allows product teams to minimize the complexity added and continue delivering value at a fairly constant rate without falling into the classic traps that have plagued software for decades.
(Shopify.com)
If you weren't at Shopify Unite (the ecommerce platform's annual partner conference) or are a Shopify Merchant, there are some big product announcements to be aware of for 2019.
There were a lot of updates to Shopify Core, Advanced, and Plus offerings:
Updates to Sections, Master Pages, and Content Portability updates will make it easier than ever for Merchants to manage and iterate on their stores.
The ability to sell in multiple currencies, new APIs for multi-lingual content, and checkout app extensions to improve the customer experience.
Big improvements to the POS and back office merchant experience.
New access to new developer tools, APIs and GraphQL libraries for order editing, delivery profiles, and fulfillment, among others.
The biggest surprise was the announcement of the new Shopify Fulfilment Network. Already set up across the USA, this new service is designed to get Merchant products in the hands of customers in ~2 days. This answers one of the biggest storeowner challenges when it comes to integrations and a problem the platform has been yet to solve.
...when buyers order something, they can wait multiple days or even weeks to get their products delivered. Worse, they often abandon carts when they discover how much shipping costs. All of this leads to lost sales and a bad customer experience. The experience is not much better for merchants either.

In short, shipping is as much of a pain for merchants as it is for buyers, and we want to improve the shipping experience for everyone.

Announcing Shopify Fulfillment Network—a geographically dispersed network of fulfillment centers with smart inventory-allocation technology, powered by machine learning that predicts the closest fulfillment centers and optimal inventory quantities per location to ensure fast, low-cost delivery.
(Theatlantic.com)
Great read into the evolution of personal finance products, and the importance of moving away from transactions (too easy) to creating incentives to build savings (harder, but very important for customers). If building fintech products learning more about behavioural economics is your thing, you'll enjoy this.
Like many Americans, Paquin thinks about the importance of saving more often than she actually saves. In a 2015 Federal Reserve Board survey, 46 percent of respondents reported that they would have trouble coming up with $400 in an emergency; living paycheck to paycheck is now a commonplace middle-class experience. So while Paquin noticed that her Walmart MoneyCard app asked her from time to time whether she wanted to "stash" some money, she didn't bother to figure out what that actually meant, let alone respond.

Then, late last year, she got an email saying that a "prize savings" feature had been added to her card. If she kept some of her balance in a virtual "vault," meaning that it would not show up in her available funds, she would be eligible to win a cash prize in a monthly drawing—up to $1,000. Every dollar in the MoneyCard Vault would equal an entry in that month's drawing. This caught her interest. A prize would go a long way toward her being able to buy a car. It also made her focus on what all those "stash" requests were about. "Oh, cool, this can work as a savings account, too," she remembers realizing. So when she got paid, she started setting aside "10 bucks, 20 bucks, whatever I could."
(Forbes.com)
A great read on the concept of "fake" Agile that recognizes that it's far easier (and alarmingly prevalent) to adopt the terminology and rituals of Agile than to actually effect meaningful change. Real Agile transformation requires a top-down commitment to transfer responsibility for operational and strategic initiatives to smaller, customer-focused teams. However these mindset and cultural changes directly conflict with traditional organizational structures, resulting in the half-measure of 'doing Agile' vs. 'being agile".
With the growing recognition that "Agile is eating the world," surveys by Deloitte and McKinsey show that more than 90% of senior executives give high priority to becoming agile, while less than 10% see their firm as currently highly agile. The gap between aspiration and reality has led to a vast number of managers, consultants, and coaches claiming to be agile and offering to help firms become agile. Quite a few firms also have CEOs who are asking, "Why aren't we agile?"

As a result, the term "agile" is often thrown around without any agreement as to its meaning. It is often applied to firms, or parts of firms, that have no substantive claim to any kind of agility. In part, as a result, firms that are in fact very agile often shy away from the label, "agile" and use their own home-grown vocabulary which feels more authentic.
(Fastcompany.com)
Love this thoughtful approach from a data viz designer on what receipts could look like if they were designed to be more useful in 2019.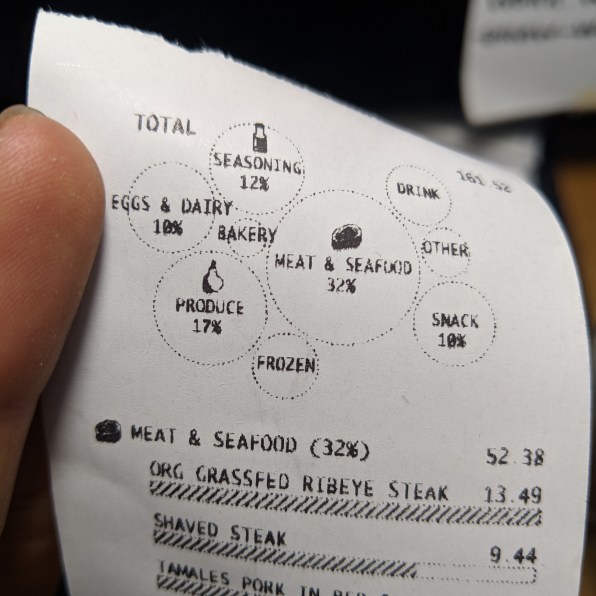 You go to Target or Costco, just to buy a couple of things. Some shampoo. Bananas if they're ripe. Then you go to check out and somehow you've spent $180. You stare at the receipt. It adds up–but where did your money go? If only the receipt itself visualized our spending better than listing numbers alone!
Fintech
(Bloomberg.com)
While the headline shouts 'blockchain' the real story here is SecureKey, a Toronto startup that raised $26M in late 2016 from the Big 5 banks to build VerifiedMe. While SecureKey has provided online digital identity services to the Federal Government since 2012, the launch of VerifiedMe is kind of a big deal. The native mobile app enables you to use your phone as a secure digital identity device, leveraging banking-level security to access government and commercial services; online, in-person and over the phone. Think of it like a Google or Facebook sign-in service – but without Google or Facebook (or SecureKey) ever seeing or storing any of your information.
The network is built on collaboration between banks, telecom firms and credit agencies, and SecureKey Chief Executive Officer Greg Wolfond said he expects Verified.Me to be used by consumers to prove their identities to access health records, open accounts at banks and telephone companies, and get government services by the end of this year.

"Everything from being able to see your health records in a secure way, being able to open a new bank account, being able to get a new phone -- all this stuff that's so time-consuming and painful is going to get easier for consumers," Wolfond said in an interview. "They're going to be able to share their data in a secure and trusted way, which they never really could before."
Artificial Intelligence
(Motherjones.com)
We like to think of creativity as a uniquely human attribute, but it seems like machines are already able to compose music that's "good enough" for most of us. Will we soon have algorithmic music "stars" or will the AI merely assist human composers? Perhaps some completely new musical genre with be birthed from this AI/Human collaboration?!
As AI capabilities improve, it's possible­—probable even—that the songs will become good enough that we'd opt to listen to them, for instance, while working or driving. The economics are enticing for streaming services.

Imagine Spotify self­-generating thousands of hours of chill-out ambient tracks with no need to pay human composers a dime. […]"They won't be able to bring any emotion, any life experiences, into it. They won't be able to cross-pollinate ideas from other fields." As Adam Hibble, creator of Popgun's music-writing tool, puts it, "This AI has no idea what's culturally relevant or what is politically relevant or whatever it is that is currently important in the zeitgeist. It's a mindless but very intelligent music creation system." […]Yet in one sense, the neural nets are mere­ly mimicking the way humans compose. We, too, consume hundreds or thousands of songs over a lifetime, intuit patterns, and recombine our knowledge into something new. We sample, we steal, and we transmogrify. Our creativity, too, is built on the creativity of those who came before. But when a machine does this, it can feel like an impersonal, even vampiric act. […]
Artificial Intelligence
(Newyorker.com)
After reading this article it's pretty hard to disagree that robots will drastically affect the way crops are grown and picked. Crop picking is incredibly labour-intensive and the industry is notorious for low pay and abusive practices, so on one hand this sounds like good news. But for the estimated 1M+ migrant workers originating from south of the U.S. border, agriculture provides much-needed employment and opportunity for a better life.
Slaughter showed me a prototype of a robotic weeding machine in the engineering department's lab. His students built it and trained it to weed a field of tomato plants, each of which has its own G.P.S. coördinates. Because the robot knows exactly where the tomato plants are and has the machine vision and intelligence to know the difference between a tomato plant and a weed, it can navigate around the tomatoes and kill the weeds either with a miniature hoe or with a micro-jet of herbicide, which Slaughter described as "an inkjet printer for agriculture." The farmer saves the cost of weeding the field by hand, and spares it a coating of herbicide that many of the tomato plants might not need. It was the nearest thing I saw in what venture capitalists call "digital agriculture" to a Roomba, the indoor robotic vacuum cleaner—a Farmba, maybe?

Summarizing the potential, Slaughter said, "For the first time, farmers can know what's going on in their fields on the level of the individual plant. The idea is that you can run a farm with the same intimate care you would use on a back-yard garden, where you know each plant individually." Farmers could irrigate and fertilize only those plants that needed it, and not waste resources on the current one-size-fits-all approach. Agriculture accounts for seventy per cent of fresh-water consumption worldwide, and, in the U.S. alone, farms use more than a billion pounds of pesticide each year; strawberry farms are especially heavy users. "Precision agriculture," the name given to this slowly unfolding revolution, could dramatically reduce such wasteful and chemical-dependent practices.
Engineering
(Medium.com)
The generally excellent Chris Dixon on decentralization – that oft overhyped term that is supposed to explain why cryptocurrency and blockchains matter. But decentralization is much bigger than bitcoin, and Dixon suggests it will fuel the development of next phase of the internet, a.k.a. Web 3.
Software and web services are built by developers. There are millions of highly skilled developers in the world. Only a small fraction work at large technology companies, and only a small fraction of those work on new product development. Many of the most important software projects in history were created by startups or by communities of independent developers.

Decentralized networks can win the third era of the internet for the same reason they won the first era: by winning the hearts and minds of entrepreneurs and developers.

The lesson is that when you compare centralized and decentralized systems you need to consider them dynamically, as processes, instead of statically, as rigid products. Centralized systems often start out fully baked, but only get better at the rate at which employees at the sponsoring company improve them. Decentralized systems start out half-baked but, under the right conditions, grow exponentially as they attract new contributors.
Fintech
(Betakit.com)
This is an incredible amount of growth for a product that was launched in 1996 and still functions in many of the same ways, and it looks like mobile has been pouring on the fuel for more growth ahead:
Interac has released its stats for 2018, its findings show a 54 percent increase in transactions from 2017. Between consumers and businesses, more than 371 million Interac e-Transfer transactions occurred in Canada last year.

…

The vast majority of those transactions are deposited on a mobile device. About three in four consumers deposit transactions using their phone. In addition, over half of transactions are under $200, with the average size for e-Transfers being $357. These stats are similar to those from 2017.
Engineering
(Worldwideweb.cern.ch)
The web is 30. Check out what your page would look like using a browser from 1989 (fwiw TWG.io 'made this server go "no".')
In February 2019, in celebration of the thirtieth anniversary of the development of WorldWideWeb, a group of developers and designers convened at CERN to rebuild the original browser within a contemporary browser, allowing users around the world to experience the rather humble origins of this transformative technology.

Ready to browse the World Wide Web using WorldWideWeb?

Launch the WorldWideWeb browser.
Select "Document" from the menu on the side.
Select "Open from full document reference".
Type a URL into the "reference" field.
Click "Open".
Design
(Uxdesign.cc)
Animation, when done well, is fundamental to great user experiences. Whether it is hinting at what the user should do next or reacting or an action taken, animation has many uses. But how to do you do it right and make it feel natural? This great post from UX Collective has a huge list of super-helpful examples for beginners and experts alike.
Numerous researchers have discovered that optimal speed for interface animation is between 200 and 500 ms. These figures are based on the particular qualities of the human brain. Any animation shorter than 100 ms is instantaneous and won't be recognized at all, whereas the animation longer than 1 second would convey a sense of delay and thus be boring for the user.
(Wired.com)
A technology has been developed to authenticate the veracity of a video, and prevent the proliferation of fakes.
Video has become an increasingly crucial tool for law enforcement, whether it comes from security cameras, police-worn body cameras, a bystander's smartphone, or another source. But a combination of "deepfake" video manipulation technology and security issues that plague so many connected devices has made it difficult to confirm the integrity of that footage. A new project suggests the answer lies in cryptographic authentication.

Called Amber Authenticate, the tool is meant to run in the background on a device as it captures video. At regular, user-determined intervals, the platform generates "hashes"—cryptographically scrambled representations of the data—that then get indelibly recorded on a public blockchain. If you run that same snippet of video footage through the algorithm again, the hashes will be different if anything has changed in the file's audio or video data—tipping you off to possible manipulation.
News
(Cbinsights.com)
Given the remove most of us have from the supply chain that provides our chicken strips, burgers and bacon, would it really make a difference to you if your 'meat' was tissue grown in a lab, or some vegetable-based substitute? Ultimately it may come down to a question of cost, as lab-grown meat products become cheaper than the real thing.
Despite high-profile deals in the sector, the industrial meat industry faces a rising tide of challenges, in the form of interrelated business, ethical, and environmental concerns. Today, they also face a unique political situation — since the US and China entered into their trade conflict, shares of WH Group have dropped nearly 50%.

Meanwhile, startups using technology to engineer meat in labs or manufacture it from plant-based products are rising in popularity. Meatless food products from beef-free burgers to pea-based shrimp threaten the future of the meat giants.

In addition to offering new products, these startups have the potential to upend all parts of the meat production process.

Going forward, the meat value chain could be simplified dramatically, as the "clean meat" lab or factory could take the place of farms, feed lots, and slaughterhouses.
Engineering
(Hanselman.com)
Tech blogging legend Scott Hanselman recounts how he used his keyboard's ambient lighting to show his blood glucose levels. This may not count as cybernetics but the marriage of health tech and consumer electronics is fascinating.
However, since the keyboard has a localhost REST API and so does my blood sugar [monitor], I busted out this silly little shell script. Add a cron job and my keyboard can turn from orange (low), to green, yellow, red (high) as my sugar changes. That provides a nice ambient notifier of how my sugars are doing. Someone on Twitter said "who looks at their keyboard?" I mean, OK, that's just silly. If my entire keyboard turns red I will notice it.
News
(Wired.co.uk)
Excellent list from WiredUK to add to your podcast playlist. Some really interesting ones in here, including a new one from Gimlet:
Without Fail
A new podcast from the folks at Gimlet Media, Without Fail is an interview podcast where host Alex Blumberg interviews people from the worlds of business, sport and culture. As the name suggests, it has a particular focus on how they failed and what they learned while doing it. The opening two episodes are a fascinating conversation with Andrew Mason who founded, and was then fired from, Groupon.
Engineering
(Hacks.mozilla.org)
WebAssembly is going to be huge! But what is WebAssembly? This post by the folks at Mozilla (including the amazing Lin Clark) is the most complete and accessible explanation I have read about WebAssembly's journey so far – and it's exciting future.

People have a misconception about WebAssembly. They think that the WebAssembly that landed in browsers back in 2017—which we called the minimum viable product (or MVP) of WebAssembly—is the final version of WebAssembly.

I can understand where that misconception comes from. The WebAssembly community group is really committed to backwards compatibility. This means that the WebAssembly that you create today will continue working on browsers into the future.

But that doesn't mean that WebAssembly is feature complete.
Engineering
(Medium.com)
FirefoxOS and Boot to Gecko live on in a variety of incarnations, notably KaiOS. FFOS and B2G were ahead of their time in some ways, like writing mobile apps in javascript and all that entails. But the platform was late and lacked the backing needed to compete with Google and Apple. For those so inclined, this is a fun and fascinating look into the history and various products built on B2G.
B2G source code has found its way into a surprising number of commercial products. In fact since Mozilla moved on from Firefox OS, its derivatives have shipped on an order of magnitude more devices than during its entire time under Mozilla's leadership and it has gone on to form the basis of the third largest and fastest growing mobile operating system in the world.
News
(Nytimes.com)
It's been pointed out that at its 1988 peak Kodak employed 145,000 people and had a market cap of $30B, while WhatsApp employed only 55 people when it sold to Facebook for $19B. That's an extreme example of the disproportionate shift in wealth within tech, but it's symbolic of a much larger problem. Homelessness is a crisis in tech hotbeds like the Bay Area, Phoenix and Austin, where senior software engineers easily command salaries of $300,000 – $400,000. A talented friend of mine who recently spent a year at Yelp in SF expressed shock to a colleague at the scale of the problem and was advised that "it takes about 1-2 months to no longer really see the homeless".
Of course this is not just happening in the software hotbeds of North America. Vast swaths of the manufacturing industry that effectively created a middle class in the post-war period are now being gutted by a number of factors – globalization and automation being the primary causes. And it's not for a lack of jobs – employment is actually at record highs – it's the low pay, tenuous employment and exorbitant cost of housing.
The forecast of an America where robots do all the work while humans live off some yet-to-be-invented welfare program may be a Silicon Valley pipe dream. But automation is changing the nature of work, flushing workers without a college degree out of productive industries, like manufacturing and high-tech services, and into tasks with meager wages and no prospect for advancement.

Automation is splitting the American labor force into two worlds. There is a small island of highly educated professionals making good wages at corporations like Intel or Boeing, which reap hundreds of thousands of dollars in profit per employee. That island sits in the middle of a sea of less educated workers who are stuck at businesses like hotels, restaurants and nursing homes that generate much smaller profits per employee and stay viable primarily by keeping wages low.

Chart: The New York Times | Sources: Bureau of Labor Statistics; Brookings (productivity)
Design
(Subtraction.com)
Khoi Vinh riffing the inexorable creep of free and open Google services into a vast array of web service and applications.
Google Fonts is hardly an insubstantial product, but relative to its other pursuits, it barely seems like it takes much effort from the company. And yet in less than a decade it has turned into one of the most important providers of type in the world. The fact that the company has operated the service with a relatively neutral hand is commendable, but who's to say how long that will last? The implications for the design world are far reaching if Google ever decides to turn its Fonts service into a revenue bearing business.
Artificial Intelligence
(Techxplore.com)
An interesting development from MIT where they have learned to shake some of the bias in a data set out of a trained model without losing precision.
The algorithm can learn both a specific task like face detection, as well as the underlying structure of the training data, which allows it to identify and minimize any hidden biases. In tests the algorithm decreased "categorical bias" by over 60 percent compared to state-of-the-art facial detection models—while simultaneously maintaining the overall precision of these systems.
News
(Techstars.com)
While the last year's inaugural Techstars Toronto cohort seemed to have quite a few under-the radar companies primarily in the product-market fit or early scale-up stage, the just-announced 2019 cohort features a number of established teams. Toronto entertainment app MadLipz has over 35M downloads across 100+ countries (either you've made a voiceover parody yourself using their app or you've probably seen your 12-year-old nephew make a meme using it!).
For proptech, govtech, crypto, to traveltech, finance and open loyalty networks – the 2019 cohort certainly seems promising:
This class builds upon the success of our inaugural class in 2018 from which 10 fast-growing technology companies were launched across several verticals including AI, food technology, virtual reality, financial services, construction tech, enterprise SaaS, and more. These companies were successful in raising well over $10M of follow-on capital collectively immediately upon graduation and, of greater significance, growing their businesses into viable disruptive tech companies.
Advertising
(Behance.net)
GRDN Studio, a design agency in Quebec along with Studio Nord Est. and L'Éloi Productions designed an exhaustive (and gorgeous) rebrand for the Montréal Alouettes.
We needed to build the foundation to engage a new generation without alienating current fans. From logo to uniforms to communications and events, we have supported the organization in creating a new brand experience through more than a hundred touch points for players, employees, fans and the community.
Artificial Intelligence
(Fast.ai)
Rachel Thomas of fast.ai (we're big fans here at TWG) sees past the skynet doom-saying and brings forth five practical concerns about AI.
1. Algorithms are often implemented without ways to address mistakes.

2. AI makes it easier to not feel responsible.

3. AI encodes & magnifies bias.

4. Optimizing metrics above all else leads to negative outcomes.

5. There is no accountability for big tech companies.
Engineering
(Media.defense.gov)
This article from the the United States Department of Defence about avoiding agile buzzword-ism is worth a read.
Key flags that a project is not really agile:

- Nobody on the software development team is talking with and observing the users of the software in action; we mean the actual users of the actual code. (The Program Executive Office (PEO) does not count as an actual user, nor does the commanding officer, unless she uses the code.)

- Continuous feedback from users to the development team (bug reports, users assessments) is not available. Talking once at the beginning of a program to verify requirements doesn't count!

- Meeting requirements is treated as more important than getting something useful into the field as quickly as possible.
News
(Medium.com)
If you follow the startup scene you probably remember Rypple, which Dan Debow co-founded and later sold to Salesforce, or the recent start-ups Helpful and Dialogue that he co-founded with former Pivotal Labs VP Engineering Farhan Thawar.
We're proud of everything we accomplished here at Helpful, and we wanted to say thank you to all of our customers. We learned so much working with you and we are indebted to you for your support and partnership. But all good things must end, and over the next two weeks we'll be shutting down Helpful Video and we'll reach out to help you transition to new software. Stay tuned for more updates on the future of Dialog.

Every ending is also a new beginning. That's why we're excited to announce that we will now be joining the amazing team at Shopify to help them make commerce better for everyone.
Engineering
(Research.hackerrank.com)
Whether you're a developer, technical recruiter or just curious, HackerRank's 2018 Developer Skills Report is a fascinating and comprehensive summary of programming and developer trends. The well-funded startup allows technical recruiters to create programming challenges and run live coding sessions with potential candidates. In their 2018 survey they interviewed nearly 40,000 developers on a variety of topics (with breakdowns by age category) from preferred programming frameworks, what languages developers are planning to learn next and what developers look for in a company when job searching.
We launched HackerRank in late 2012 with the goal of matching every developer to the right job. And the growth has been amazing — we reached 3.2M developers in the community and powered 2% of all developer hires last year.

For the first time, we surveyed the HackerRank community to get a pulse on developer skills (when did they push code for the first time, how do they learn coding, what are the favorite languages and frameworks, what do they want in a job, what hiring managers want in a candidate, and more). There are some great insights, from 39,441 responses, that we are happy to share with you today. Did you know that 1 in 4 developers learned to code before they could drive?
Transportation
(Qz.com)
For all the hype we hear about Tesla and the electric vehicle initiatives of western automakers, China alone accounts for one-third of global EV sales, and almost all of the vehicles are Chinese-made.
Government policy—rather than market economics—created the electric car craze there. For nearly a decade, China's government has poured money into the EV industry, offering generous tax incentives and subsidies for car makers and consumers, building charging infrastructures across the country, and placing restrictions on the sales and use of gasoline cars.

As a result, electric vehicles have become a large part of Chinese people's daily lives in a way that hasn't happened in countries like the US. And there's no better place to see that than in Shenzhen, one of China's tech hubs in the southern part of the country.

Shenzhen is the world's only city to have 100% electric buses. It's also one of the first Chinese cities to set a goal to replace all gasoline-run taxis with new electric vehicles, which includes pure battery vehicles and plug-in hybrids. And that's not a coincidence. Shenzhen is home to BYD, the world's second largest EV maker after Tesla.
News
(Nytimes.com)
Peter Jackson applies his know-how and WETA effects team to restore WW1 film shot over 100 years ago – with incredible results.
The documentary, which will screen nationwide Dec. 17 and Dec. 27, concentrates on the experiences of British soldiers as revealed in footage from the archives of the Imperial War Museum. Jackson and his team have digitally restored the footage, adjusted its frame rate, colorized it and converted it to 3-D. They chose not to add a host or title cards. Instead, veterans of the war "narrate" — that is, the filmmakers culled their commentary from hundreds of hours of BBC interviews recorded in the 1960s and '70s.

The result is a transformation that is nothing less than visually astonishing.
Artificial Intelligence
(Techcrunch.com)
If you thought that the development of new manufacturing materials, adhesives, pharmaceuticals and stuff was done by white-coat scientists mixing different chemicals in a laboratory, Zymergen is taking a very different path.  The 600-person Bay Area biotechnology company is leading the field in the development of new compounds, from yeasts to plastics to drugs, using genetically engineered microbes, or 'bugs' as their CEO calls them.
In fact, Zymgergen cofounder and CEO Joshua Hoffman says one of the biggest opportunities before his now 600-person company is to produce entirely new products that are untethered to traditional petroleum-based manufacturing, which currently underpins nearly everything we use and own, from gas to golf bags, from dishwasher parts to dresses.

As it relates to OLEDs, for example, Hoffman notes that "current petrochemical-derived films don't work as well as they should. They're too blue, or they scratch, or they de-laminate and the screen comes apart. The problems are rooted in their core chemistry. But biology gives you whole palette with which to create films, adhesives, and coatings."
Advertising
Burger King's one-cent Whopper offers a Taste of the Robocar Future
I don't know if this is horrible or genius, but it's definitely a prescient take on the future of location-based targeting of autonomous vehicles.
Jump forward a few years, though, to the day when computers take the wheel: Suddenly this sort of campaign becomes less gimmicky and much more pervasive.

You get a hankering for fast food, call up a robocar, and enter McDonald's as your destination. Burger King has paid extra to reach McDonald's-bound riders. So as the car gets going, you get this message on one of the many interior screens: Special offer! Head to Burger King right now and get a free order of Cheesy Tots™ with your order of any burger! Touch here to accept a rerouting. This will add three minutes to your trip time. You hit the button and the car takes you to the Land of Whoppers.
Engineering
(Digitaltrends.com)
Gotta hand it to Elon Musk, the man has ambition. According a proposal unanimously approved by the FCC last month, Musk's SpaceX company is building the Starlink satellite broadband network will launching the first of 12,000 satellites in 2019 with network services commencing in 2020.
SpaceX plans initially to launch 4,425 Starlink satellites into a low-Earth orbit followed by an additional 7,518 satellite at an even lower orbit. The first group of satellites will operate at an altitude of 1,110km to 1,325km and will form the backbone of the company's Starlink broadband service. The additional satellites will circle the Earth at altitudes from 335km to 346km and will boost capacity and lower latency, especially in densely populated areas. Because of these low orbits, SpaceX says its planned Starlink broadband network will have latencies as low as 25ms and gigabit speeds that will rival existing cable or fiber optic systems. Not only will it be fast, but the Starlink network also will reach those areas that have poor or no internet connectivity.
Fintech
(Medium.com)
Congrats to our friends and former TWG coworkers Megha and Satraj, who's 9-month-old startup has just been acquired by Coinsquare for $12M.
"We have enormous respect for what the BlockEQ team brings to Coinsquare." said Cole Diamond, CEO of Coinsquare. "They are one of Canada's best tech teams, and the product they've built is immensely valuable. That combination in partnership with Coinsquare's technology means that we have the opportunity to build amazing things for the cryptocurrency community in Canada and far beyond."
Fintech
(Forbes.com)
We've lived our lives without open banking laws, so it's hard to understand the impact – and opportunity – of being able to easily share selected transaction information from your bank to other 3rd parties.
Open Banking regulations require big banks to permit their customers to share their own transaction data with third parties, which is made possible through application programming interfaces or APIs. These APIs allow software at one company to have access to information from another. In order to make use of bank APIs, companies are required to have authorization from the UK regulator as Account Information Service Providers (AISPs), proving compliance with regulations including keeping data secure and only using access to provide their stated service.